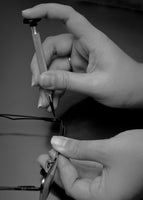 Hand Made Quality Craftsmanship & Environmentally Conscious
What you want and deserve......for your face and eyes.
We are dedicated to finding and investing in the best materials and people to get the best products.  The founders are Doctors who have been in the industry for year.  They have seen the decliene in quality optical products. This is not some random start up, this is a mission to give back the right way. We have several programs that not only give out glasses but exams as well. All of our materials are of the highest quality and use recycled materials and environmentally friendly processes at every available step. We are in this to really make some lasting changes to the industry.
Quality