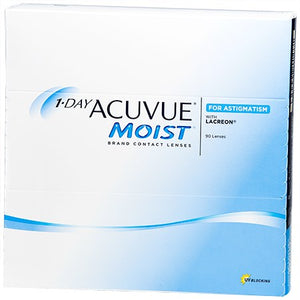 ACUVUE 1-DAY MOIST for Astigmatism 90 Pack
Regular price $99.99 Sale
1-DAY ACUVUE MOIST for ASTIGMATISM 90 Pack Product Information
1-Day ACUVUE® MOIST® Contact Lenses for Astigmatism are a daily disposable contact lens offering the hygiene and convenience of a fresh lens every day for individuals who suffer from astigmatism. Now, you can have consistently clear and comfortable vision from the moment you put them in, to the moment you toss them at the end of the day.
Manufactured by Johnson & Johnson.
Offers the widest available range in the market for a DD toric lens.
ACUVUE's BLINK STABILIZED™ lens design results in minimal lens rotation from eye movements, which helps to maintain clear and stable vision all day long.
LACREON® Technology retains moisture to keep your eyes moist and comfortable until the end of the day.