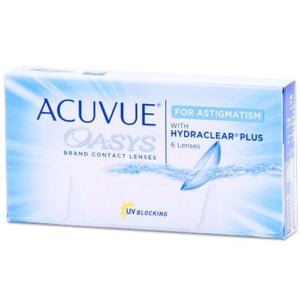 ACUVUE OASYS for Astigmatism 6 Pack
Regular price $59.99 Sale
ACUVUE OASYS for ASTIGMATISM Product Information
Leave discomfort, blurred and fluctuating vision behind with ACUVUE® OASYS® Brand for ASTIGMATISM contact lenses. The combination of the revolutionary BLINK STABILIZED™ lens design and the exceptional comfort of HYDRACLEAR®PLUS Technology forms a lens like no other. The result is consistently clear vision that's remarkably comfortable- even for people with an active lifestyle.
Slightly tinted for easy handling.
High level of UVA and UVB Blocking helps protect portions of your eyes.
Replace every two weeks OR wear continuously up to six nights then replace with a fresh pair of contacts.
Patented Hydraclear technology brings together a remarkable moisture rich wetting agent with high performance base materials to form clear, wettable lenses resulting in a unique, silky, soft feel.