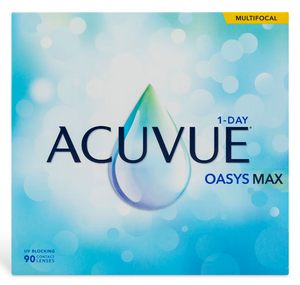 ACUVUE OASYS Max Multifocal 1-Day 90 pack
Regular price $160.00 Sale
ACUVUE OASYS Max
 Multifocal 

1-Day 90 pack

Introducing the latest multifocal contact lens from Acuvue: Oasys Max 1-day Multifocal. It was created for folks who need both near- and far-sighted correction who also spend lots of time looking at screens every day (as many of us do). Plus, you can enjoy the convenience and health benefits of daily contacts.
ACUVUE OASYS®

 

Brand Contact Lenses deliver exceptional comfort and performance in challenging environments.
The only daily lens with HydraLuxe™ Technology, a unique Tear Infused Design optimized to help make the feeling of tired eyes a thing of the past.
Clinical trial results show superior performance to Dailies Total1®

 

on comfort, vision and handling.
ACUVUE OASYS®

 

Brand is the #1 selling brand of contact lenses.
Available for near- and farsighted vision correction.
Includes an 3-month supply for one eye.