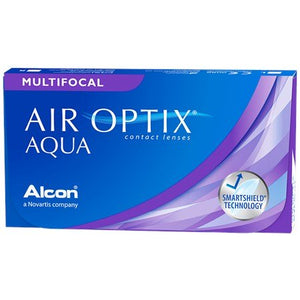 Air Optix Aqua Multifocal 6 pack
Regular price $99.99 Sale
AIR OPTIX AQUA Multifocal Product Information
The Unique Precision Profile™ design of AIR OPTIX® AQUA Multifocal contact lenses allows for a range of prescription strengths to blend across the lens. It works with your eyes' natural function for uninterrupted clear vision, near through far.
AIR OPTIX AQUA MULTIFOCAL are disposable contact lenses manufactured by Alcon.
For additional wearing comfort, AIR OPTIX AQUA MULTIFOCAL offers a unique wetting agent (with hydrophilic properties) that lets the eyelid easily glide over the lens.
The unique Aqua Moisture System allows up to 5 times more oxygen through the lens than traditional hydrogel soft multifocal lenses.
AIR OPTIX AQUA MULTIFOCAL provide a smooth transition from close-up to distance vision in real world situations.