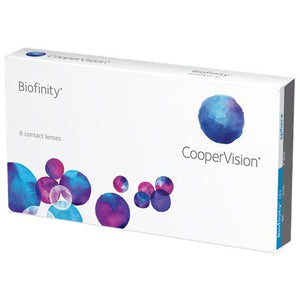 Biofinity (6 pack)
Regular price $54.99 Sale
Biofinity Product Information

Biofinity® is a monthly replacement silicone hydrogel contact lens.
Aquaform™ Technology is a combination of material technologies resulting in a uniquely comfortable and high-performance contact lens.
Biofinity® lenses allow plenty of oxygen to pass through to your eyes and the natural wettability won't rinse off.
Offers premium levels of comfort for up to 7 days of continuous wear.
Manufactured by CooperVision®.
Biofinity® contact lenses are made from a unique, naturally water-loving material that helps them stay moist. Biofinity lens material is highly breathable, which allows greater levels of oxygen to freely flow through the lens, and helps keep your eyes clear, white, and healthy. CooperVision's patented Aquaform™ technology, optimizes the relationship between oxygen and water, creating a softer, more flexible lens material.