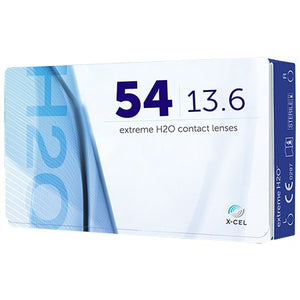 Extreme H2O 54 (6 pack)
Regular price $39.99 Sale
Extreme H2O 54 Product Information
Extreme H2O 54 contact lenses are made with ultra hydrating non-ionic materials that have outstanding hydration and water retention characteristics. Get unsurpassed all-day comfort, clarity and dry eye relief with the only manufacturer to offer a "lens fitting system" geared toward your patients' specific needs. Two diameter options allow you to use your expertise and not only provide patients with an outstanding material, but with the right size lens ensuring a perfect fit and ultimate comfort.
Advanced moisture retention for outstanding ALL-DAY comfort.
Crisp, stable visual acuity.
Increased wearing time.
Improved ocular health.
Deposit resistance.
Manufactured by X-Cel Specialty Contacts.