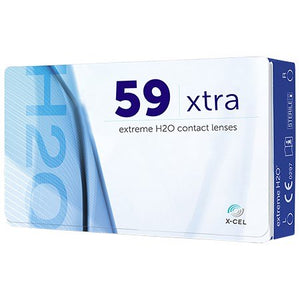 Extreme H2O 59 Xtra (6 pack)
Regular price $39.99 Sale
Extreme H2O 59 Thin Product Information
The Extreme H2O 59 Thin lens retains 99% of its water content on the eye, even under extreme conditions. All lens dimensions and oxygen permeability present in the first hour of wear, will be present in the last. Lens comfort, movement, and fit will be stable throughout the day.
Ultra stable copolymer provides exceptional on-eye stability throughout the wearing period.
Lenses do not shrink, tighten, or change shape on the eye.
Crisp, clear vision is provided throughout the entire wearing period.
Non-ionic material resists deposits, keeping lenses clear and free of unhealthy protein deposits.
Ideal for people that deal with extreme dryness and discomfort.
Manufactured by X-Cel Specialty Contacts.