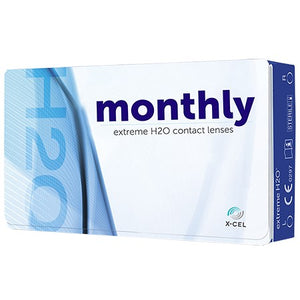 Extreme H2O Monthly (6 pack)
Regular price $49.99 Sale
Extreme H2O Monthly 6 Pack Product Information
Extreme H2O Monthly lenses improve all-day comfort and clarity related to dryness and wearability problems. They reduce risks of complications from deposits and microbial keratitis (MK). Featuring advanced hydration properties that keep eyes naturally moist and comfortable all day long, this ultra stable copolymer lens provides exceptional on-eye stability to keep vision clear and crisp.
All-day comfort and dry eye relief.
All-day visual clarity.
Best fit possible with 3 base curve options.
Reduces risk of complications.
Manufactured by X-Cel Specialty Contacts.