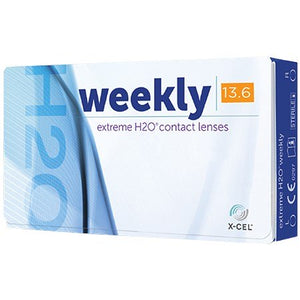 Extreme H2O Weekly (12 pack)
Regular price $39.99 Sale
Extreme H2O Weekly 12 Pack Product Information
Extreme H2O Weekly contact lenses are the only disposable lens available in three diameters. Made with ultra hydrating non-ionic materials, these lenses have outstanding hydration and water retention characteristics which contribute to unsurpassed all-day comfort, clarity and dry eye relief. They are a great solution for those who have specific fitting needs and have had adaptation issues with silicone hydrogels.
Advanced moisture retention for outstanding ALL-DAY comfort.
Crisp, stable visual acuity.
Increased wearing time.
Improved ocular health.
Deposit resistance.
Manufactured by X-Cel Specialty Contacts.