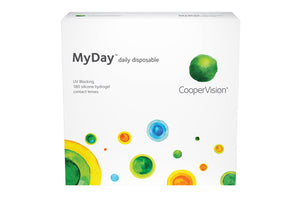 MyDay 1 Day (180 pack)
Regular price $145.00 Sale
CooperVision's newest daily disposable lens, MyDay®, is here to make every day, your day. Now, you can enjoy a whole new level of contact lens comfort. MyDay's patented Smart Silicone™ chemistry delivers on everything and compromises on nothing.
MyDay® is a daily disposable contact lens.
Silicone hydrogel lenses allow more oxygen to pass through to your corneas than hydrogel lenses.
Smart Silicone™ chemistry is the revolutionary hydrophilic long-chain module at the heart of what makes MyDay's stand out.
Manufactured by CooperVision.
MyDay's Smart Silicone™ chemistry features an uniquely low hydrophobic silicon content. This allows more water to be integrated into the chain structure, thus making the lens genuinely wettable from within. No additional coatings or surface treatments are required. MyDay® delivers everything from long-lasting comfort, to healthy breathability, to effortless ease of handling, in a way that no other silicone hydrogel daily disposable does.