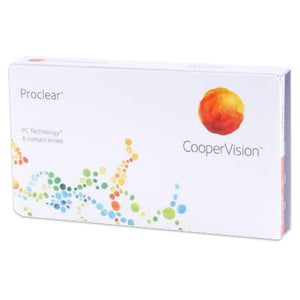 Proclear Compatibles (6 lenses)
Regular price $185.00 Sale
Proclear multifocal XR Product Information

Proclear multifocal XR lenses are manufactured by CooperVision® and are monthly disposable contact lenses.
These lenses have been designed to address two common eye conditions experienced by those with aging eyes: presbyopia and eye dryness.
Proclear multifocal XR lenses focus light from both near and far distances to the back of the eye creating the clearest possible image. This unique system uses two different yet complementary lenses that work together to provide clear vision near, far and in between.
Proclear multifocal XR lenses give you great vision at every distance while staying moist and comfortable all day long.
Proclear multifocal XR provide all-day comfort. Balanced Progressive
Technology- two different, complementary lenses work together to provide exceptional vision at all distances. Balanced Progressive Technology combines spherical and aspheric optics and unique zone sizes to produce a "D" lens for the dominant eye and an "N" lens for the non-dominant eye. These two lens designs work together to provide a new level of vision quality. PC Technology leads to a more comfortable lens-wearing experience- especially important to presbyopic patients whose eyes often grow drier as they age. **Both Proclear Multifocal and Proclear multifocal XR use the same packaging and label. Proclear multifocal XR will have the XR on the prescription label at the end of the box.